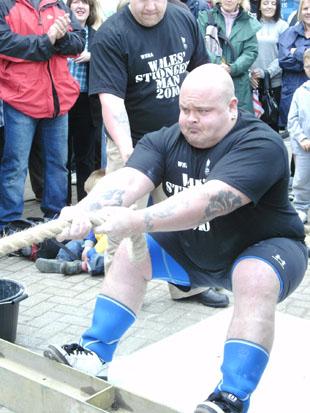 WINNER: Dale Norris was crowned the 2010 Wales Strongman champion. Picture: Ben Powell

SPECTATORS turned out in force on Sunday to watch the 2010 Wales Strongman competition taking place in Penarth Marina.

Thirteen powerlifters from all over the principality took part in six punishing events at the marina boatyard, including a dead lift, the atlas stones, the super yolk, farmers walk with tyre flip, a log lift and an arm-over-arm tractor pull.

Dale Norris, from Porth, was crowned 2010 champion with Richard Smith, from Flint in north Wales, finishing runner-up.

Both men automatically qualify for the UK Strongest Man competition taking place in Belfast in August - an event that will be broadcast on satellite TV channel, Bravo.

Powerlifter Richie Allen, from Penarth, organised the 2010 national tournament and also took part - recording a respectable fifth-place finish.

He said: "It was such a great atmosphere on the day.

"Everything went to plan and Penarthians really showed their support.

"I've had hundreds of emails and telephone calls since from people who have said how much they enjoyed it.

"I'm pretty exhausted now though - I just wish I could recover a bit more quickly!"

Richie now hopes to organise a strongman competition at this year's Penarth Summer Festival, and is set to discuss the idea with Penarth Town Council.
"We'd like to have an exhibition version, with novices being able to have a go," added Richie.
"People from Penarth love this kind of event and I think it would be a popular addition to the festival."


400kg 18" deadlift by Dale Norris, 18th August 2010.

YouTube Link -