The Powerhouse Gym is situated on the Aberaman Industrial Estate on the outskirts of Aberaman near Aberdare. The gym is very popular with local people of all ages.

Non members are always welcome. We also provide tailored fitness programmes should anyone wish to carry out a healthy and strict regime to keep fit and stay healthy.


The gym is fully equipped to accommodate all aspects of strength training with a section for cardiovascular training.
Cardio Machines

3 x Treadmills, 2 x Upright Bikes, 1 x Cross Trainer,
1 x Rowing Machine, 1 x Summit Trainer.

Strength – Definition

Dumbbell's 2.5kg up to 90kg
Kettle Bells
Dap Machines
Flat Bench
Incline Bench
Smith Machine
Power Rack
Numerous other machines to cater for Isolation Exercises (Individual Body Parts)


We sell a wide range of training supplements including:

- Protein Bars
- Meal Replacements
- Recovery Drinks
- Energy Drinks
BANK HOLIDAY OPENING HOURS
EASTER
FRIDAY 14/4/17 - 6.30am - 9pm
MONDAY 17/4/17 - 6.30am -4pm

MAY
MONDAY 1/5/17 - 6.30am - 4pm
MONDAY 29/5/17 - 6.30am - 4pm

OPENING TIMES

MONDAY, WEDNESDAY AND FRIDAY
6.30am - 9pm

TUESDAY AND THURSDAY
9.00am - 9pm

SATURDAY AND SUNDAY
9.00am - 4.00pm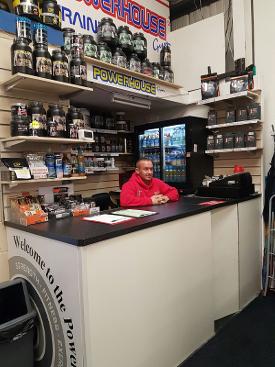 Monthly Membership Now Available

Details Below.

Membership Fees
Non Member £2.70
Monthly Fee £29
Concession £20 (Over 60)
Student/Unemployed £25

Below is for £29 Monthly Fees only.

Multiple Monthly Payments
3 month £80 Normal £ 87
6 month £160 Normal £ 174
12 Months £319 Normal £ 348

Forms are available from the Gym.